Residency Program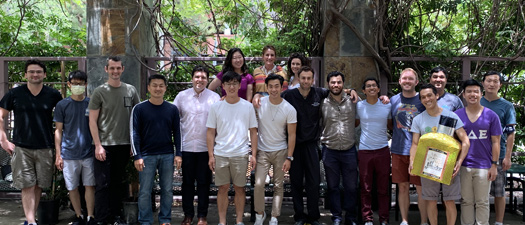 We live the Department's core values of dedication, integrity and inclusivity to provide a safe environment for everyone to work, learn, grow and develop into outstanding anesthesiologists who will become leaders in the field.
Welcome
The UCI Anesthesiology Residency Program provides 4-years of training that not only reflects the objectives and competencies of the American Board of Anesthesiology (ABA), but also emphasizes personal growth and development. We also offer an Innovative Anesthesiology-Critical Care Education Program that is an integrative approach towards completing an ABA certification in anesthesiology and critical care medicine.
Residents have successfully achieved professional goals through excellent clinical experiences, comprehensive educational programs and faculty mentorship that starts at the very beginning of the program. Our residents receive broad training in anesthesiology, pain management, critical care and perioperative medicine with progressively increasing levels of responsibility.
Meet the Residents
Learn more about UCI Resident Life in Orange County. Meet our residents who come from all across the country and a welcome message from the Chief Residents.
Curriculum and Clinical Rotations
The UCI Anesthesiology Residency Program offers residents a comprehensive carefully designed learning experience composed of dedicated education days with targeted learning that includes workshops and simulation sessions, Point-of-Care Ultrasonography, problem-based learning and discussions, clinical case scenarios, journal club and individualized mock oral board and written board exam practices.
Residents will gain strong clinical experiences with clinical rotations at various healthcare systems with diverse patient populations. Our Global Outreach Initiative supports residents who are interested in volunteering in medically underserved parts of the world, providing anesthesia in countries with limited resources. In addition, residents may travel to Taiwan for a hands-on advanced cardiothoracic anesthesia elective, deepening their understanding of both cardiothoracic anesthesia as well as potential cultural and practice differences.
Scholarly and Leadership Activities
Resident scholarly and leadership activities are an important part of residency training and are strongly encouraged. Many of our residents serve in leadership roles within the department and the UCI institution, as well as in regional and national societies. Residents have ample opportunity to present case reports and research abstracts (with department financial and time support) at national, regional and local conferences.
What do our residents do after residency?
Our graduates have successfully matched into competitive fellowships and acquired highly desirable private and academic career positions across the country. Approximately 50 percent of our graduates have pursued fellowship training in the last five years.
The UCI Anesthesiology Residency Program is dedicated to providing an exceptional educational experience for residents. We invite you to explore our website and follow us on Facebook, Twitter and Instagram to learn more about what makes UCI School of Medicine an excellent place to begin your residency training.
We look forward to meeting you during the recruitment season.
A Tour of UCI Medical Center

We invite you to explore the state-of-the-art facilities and innovative technology UCI offers residents during their training.