Critical Care Medicine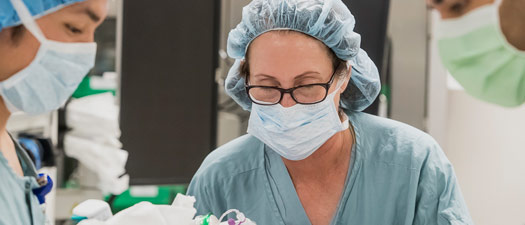 Our anesthesiology critical care medicine team includes anesthesiology critical care trained faculty who are committed to providing comprehensive care in the challenging environment of the intensive care units.
As Orange County's only verified combined Level I adult and Level II pediatric trauma center, UCI Health treats over half of Orange County's traumas. UCI Health provides the most advanced trauma and critical care treatments available for patients with life-threatening injuries 24 hours a day, seven days a week.
Our anesthesiology critical care team cares for a diverse patient population and provides the most advanced level of care for patients undergoing complex surgical procedures, ventricular assist device implantations, transplants, synthetic skin treatments, neurosurgical procedures and pulmonary procedures. In addition, the anesthesiology critical care team provides care for patients in different intensive care units with an emphasis in a multidisciplinary team approach with a staff of intensivists, trauma and critical care surgeons, critical care nurses and nurse practitioners.
UCI Health has the most advanced cardiovascular disease services program that offers a full range of procedures and leading-edge devices for patients with severe heart problems. Our anesthesiology critical care medicine team, along with cardiothoracic surgeons and heart failure specialists, manages and cares for patients in the cardiovascular ICU who are undergoing ECMO (extracorporeal membrane oxygenation) or LVAD (left ventricular assist device) implantations.
UCI Health is designated as an ECMO center, as well as the first to offer LVAD implantation in Orange County and participates in the Extracorporeal Life Support Organization (ELSO) Registry. In addition, the UCI Health Heart Failure Program recently passed the DNV Accreditation Survey and earned the American Heart Association's Get With The Guidelines®–Heart Failure Gold Quality Achievement Award in 2019.
Faculty
Education Opportunity

We offer an ACGME accredited fellowship in Anesthesiology Critical Care Medicine.