Medical Education Simulation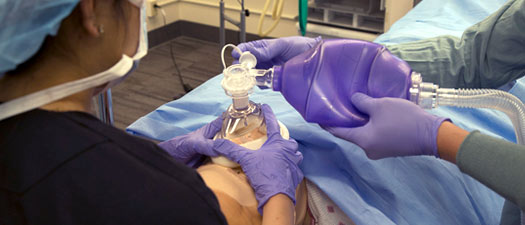 Simulation technology based education is a growing tool for education and training to assess, define and provide solutions to healthcare needs and improve patient safety.
Facility
The UCI Perioperative Simulation Center located on the UCI Medical Center campus combines a small-scale simulation center and mobile simulation activities to provide medical simulation education, training and research for perioperative needs within the medical center for all healthcare providers and trainees. Our unique combination of resources provides private simulation sessions on the medical campus as well as in-situ simulations within the hospital.
The UCI Perioperative Simulation Center aims to:
Provide a systematic approach to evaluate needs and gaps of perioperative systems, multidisciplinary teams, and competencies of clinicians.
Establish technologically innovative and multimodal simulation approaches to research, policy and curriculum development.
Meet the highest standard of excellence in the clinical setting through robust training and research of clinical education, patient safety and multidisciplinary teamwork.
Focus on skill sets to promote cohesiveness and a culture of accountability to patient safety, system evaluation and transparency within departments and the medical center.
Courses
We offer a range of educational courses for physicians, fellows, residents, nurses, medical students and the community. Our simulation center offers a range of high-fidelity, low-fidelity and computer based simulation training.
If a different simulation activity is needed than what is listed, the UCI simulation team can create a course that best fits the needs of the trainee.
High Fidelity Simulation
Faculty development
Resident education
CRNA training
Sub-I education
Interdisciplinary team training
In-Situ (hospital) simulations
Low Fidelity Simulation
Technical skill training workshops
Task trainers located near operating rooms for procedural practice and warm up
Competency based trainings
Ultrasound workshops (regional, access)
Computer Based Training
Combined Fidelity Programs
Available Simulation Equipment
Arterial puncture wrist simulator
Anesthesia machine
B-Line mobile unit
Central line trainers
Cricothyrotomy simulators
Fiberoptic dexterity trainers
Infant airway trainers
Intubation heads
Lumbar epidural and puncture simulators
Neonatal airway trainers
Pediatric lumbar puncture simulator
ResusciAnne
SimMan3G®
SimRated® skills training
Transesophageal echocardiography (TEE) simulator
TEE/TTE simulator
Ultrasound training block models
Contact Information
For questions about the medical education simulation, contact:
Dean Wong
Medical Student Coordinator
Medical Simulation Coordinator