Regional Anesthesiology and Acute Pain Medicine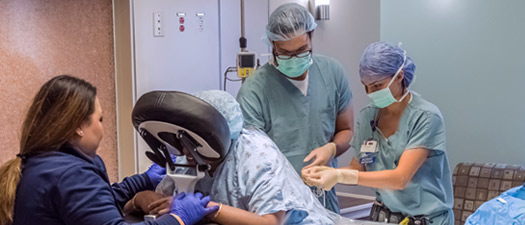 The UCI Anesthesiology & Perioperative Care regional anesthesiology and acute pain service provides advanced regional anesthetics to a wide range of patients at UCI Health.
The UCI Anesthesiology & Perioperative Care faculty includes a multidisciplinary group of physicians who have specialized training in regional anesthesiology and in acute pain medicine. We provide regional anesthetic blocks for patients undergoing all types of surgeries, cancer patients and complex trauma patients at UCI Medical Center. In addition to providing regional anesthetic blocks for patients, the acute pain service provides consults for medical and surgical teams and assists with complex pharmacological management including neuraxial, parenteral and enteral pain medications. We strive to provide pain relief by decreasing the use of opioids, improving patient outcomes and increasing patient satisfaction.
Regional Anesthesiology
Our UCI regional anesthesiology team provides patients with expert clinical care and current effective interventions for postoperative pain control and alternatives to general anesthesia for select types of procedures. The latest ultrasound technology is utilized to provide image-guided peripheral nerve blocks, fascial plane blocks and catheters for patients undergoing a wide variety of surgeries. For patients undergoing extensive abdominal and pelvic surgeries, our regional anesthesiologists provide epidural analgesia for superior postoperative pain control, a decreased use of opioids and decreased adverse side effects. In addition, the regional service may provide continuous infusion catheters for select patients to use at home, thereby improving pain control for discharged patients.
Faculty
Acute Pain Medicine
Our Acute Pain Service team consists of attending physicians with both acute and chronic anesthesia expertise, residents, fellows and nurse practitioners who share the responsibility of the service to provide 24/7 in-house coverage at UCI Medical Center. We also work closely with the primary provider team as a means to develop an effective oral pain regimen for discharge disposition.
Our team uses a multi-modal approach, typically a combination of non-opioid analgesic, opioid, a regional anesthetic block and patient-controlled analgesia to care for patients with acute postoperative, post-traumatic and severe chronic pain. We strive for early recognition of pain, as a means to enhance recovery, decrease length of stay and improve patient satisfaction. We focus on the treatment of acute perioperative pain tailored towards each patient's needs by creating treatment plans chosen from rational, evidence-based therapeutic options.
We utilize the latest ultrasound guided technology and nerve stimulation technology for placing and managing a wide range of peripheral nerve blocks, with or without catheter placement. We also provide and manage thoracic epidural catheters, which are placed for patients undergoing extensive abdominal and thoracic surgery as well as for patients suffering from acute traumatic chest injuries. All patients with indwelling catheters are closely monitored and treated on a daily basis by the Acute Pain Service.
Faculty
Education Opportunity

We offer a non-ACMGE accredited fellowship in Regional Anesthesiology and Acute Pain Medicine.