Global Outreach Initiative
UCI Anesthesiology & Perioperative Care is committed to help developing countries that have many challenges to safe and effective healthcare.
The Global Outreach Initiative will give residents a unique opportunity to understand anesthesia practices within different socioeconomic environments and the many complex issues that define global health. Anesthesia plays a critical role in global healthcare and procedures that are considered routine in this country are potentially high risk in underserved areas due to the availability and vast differences in equipment, resources and even environmental locations.
The Global Outreach Initiative can be taken as an elective rotation during the CA-3 year. The senior resident and a UCI anesthesiology faculty member will arrange and join a volunteer group for one week and travel to an underserved area of the world to provide anesthesia care to a local community. Through this experience, residents are able to develop a sense of compassion for persons disadvantaged through disease and access to safe and effective healthcare. The goal is for residents to become advocates for the advancement and safe practice of anesthesia all around the world.
Medical Mission 2020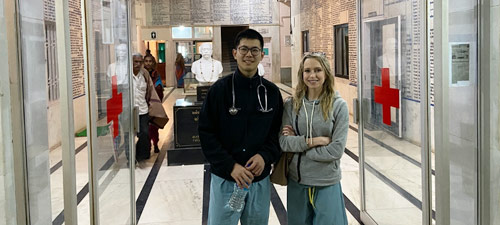 Gujarat, India - January 5 to 11, 2020
The Bibada Hospital rotates through different surgery specialties several days at a time and during this mission trip, ENT and general surgery procedures were the focus. Over the course of the week, the team was able to provide a wide range of anesthesia services that included monitoring care and providing general and regional anesthesia for cases that ragned from tympanoplasties, hernia repairs, thyroid and parathyroid removals.
 I was excited to collaborate with other healthcare providers trained from different parts of the world and to experience providing care in a limited-resource setting. The availability of the types of medications and a lack of a post anesthesia recovery unit was a new landscape. There were cases that general anesthesia would be the anesthetic choice in a U.S. hospital setting, but most times we had to provide a spinal block for the cases we were on. After the trip, I felt exteremly thankful for not only the new experiences, but also the friendships, memories and hospitality of all the people we met through the trip. 

Simon Kim, MD (Resident Class of 2020)
Medical Mission 2018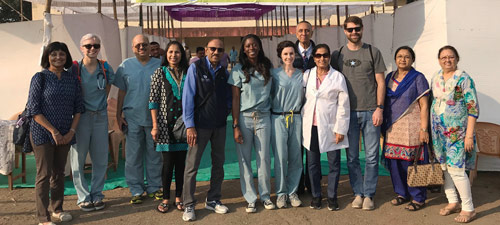 Gujarat, India - January 1 to January 6, 2018
Kicking off the year in Gujarat, India for a collaborative Global Outreach Initiative. This trip was a large group effort of 29 volunteers for a total of six different medical missions. UCI Anesthesiology & Perioperaitve Care sent out two teams (5 residents and 2 faculty attendings) within a two weeks span to help the underserved area. There were a total of ~241 patients seen, varying in age from kids to adults and 147 surgeries performed.
Over the course of the five days, the team was able to provide medical procedures ranging from appendectomies, cholecystectomies, tympanoplasties, exploratory laparotomies to hernia repairs and ganglion cystectomies. The team also saw over 1,000 patients at a pop-up clinic located in a sugar factory.
Traveling to India to perform anesthesia was an eye-opening experience. It made me grateful for clean operating rooms, unlimited syringes and easy access to translators. The patients were so grateful for the services we provided and the other hospital workers we worked along were kind and welcoming (and always wanted to feed us). I'm also grateful for drinkable tap water and well-paved roads. All in all, it was an excellent experience and I would recommend it to anyone who is able to go!

Melinda Eshelman, MD (Resident Class of 2018)
Medical Mission 2017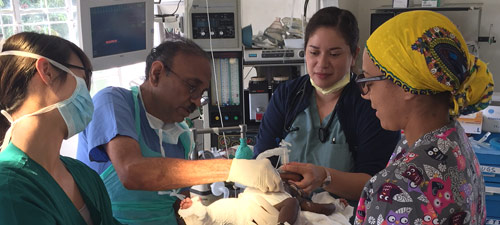 Zambia, Africa - May 1 to May 5, 2017
The trip to Zambia, Africa comprised of a volunteer team of nine people, ranging from orthopedic surgeons, dentists, general physicians, medical assistants, non-medical volunteers and anesthesiologists. Dr. Jennifer Gastelum (Resident Class of 2017) was one of two anesthesiologists who participated in this trip. In five days, 235 patients was seen and treated at Zimba Mission Hospital and Nyawa Rural Health Centre. The patients treated ranged from four-week-old babies to 72 year old adults. They were provided general check-ups, medical procedures and surgeries, if needed. Zambians were very appreciative of the help they received.
Seeing how anesthesia is practiced in Zambia is an incredible experience that I will appreciate for the rest of my life. I did several cases with only one or two monitors and all of the patients recovered well. Practicing safe anesthesia with very limited resources is a humbling experience and has made me truly grateful for the privilege to help the people of Zambia. This global outreach trip is hopefully the first of many to come.

Jennifer Gastelum, MD (Resident Class of 2017)
Mumbai, India - January 6 to January 16, 2017
This global outreach team traveling to Mumbai, India consisted of Dr. Ben Sanders (Resident Class of 2017), Dr. Vishal Khemlani (Resident Class of 2017), along with faculty attending, Dr. Ariana Nelson. They provided anesthesia services at C.N. Kothari Homeopathic Medical College at Kalidas Hospital. The anesthesia team was able to gain exposure to the various equipment, medication and resources that are only available in India. The anesthesia team gained valuable insight from this humanitarian mission.
Medical Mission 2016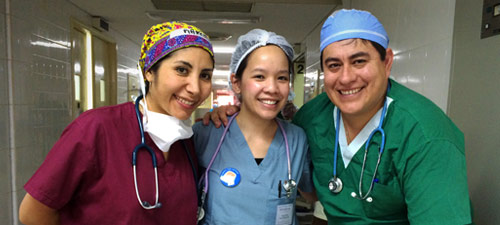 Santa Cruz, Bolivia - March 10 to March 18, 2016
Dr. Diana Phan (Resident Class of 2016) volunteered at the medical mission in Santa Cruz, Bolivia with Operation Smile. Since 1982, Operation Smile has provided hundreds of thousands of free surgeries for children and young adults in developing countries who are born with cleft lip, cleft palate or other facial deformities. It is one of the oldest and largest volunteer-based organizations dedicated to improving the health and lives of children worldwide through access to surgical care.
As a resident, I was blessed to have been part of an international medical mission that has affected me in such a positive way. With the help and support from the Department, I joined Operation Smile for their mission to Santa Cruz, Bolivia. I was part of an international team assembled to perform cleft lip and palate surgeries to hundreds of local children over a one week period. The lessons I learned ranged from technical skills needed to provide anesthesia with much less of everything, to communication skills in order to work with a makeshift team of various languages. But, most satisfying is my new relationships with the other volunteers, a group teeming with positive energy, adventurous personalities and pure altruism. I am already looking forward to my next mission!

Diana Phan, MD (Resident Class of 2016)
Get involved and get connected to shape the future of healthcare.