Perioperative Medicine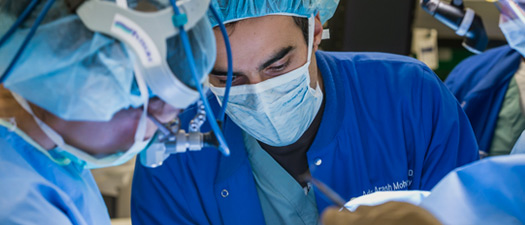 We are dedicated to providing a multidisciplinary team approach to coordinated patient-centered care throughout the surgical journey.
Perioperative medicine and healthcare is continually evolving. The role of anesthesiologists has expanded to all phases of patient care. As anesthesiologists, we advocate for each patient to be medically optimized prior to surgery, to experience a smooth hospital course, and to return back to normal life activities. Patients receive individualized service that is expertly coordinated across multiple departments and phases of care.
We are dedicated in providing care to patients throughout the entire surgical journey:
Decision to Operate
The care team provides the patient with information necessary to create an individualized surgical plan. This includes a proposed surgery date and information on what to expect before, during and after surgery. By providing patients with information early and ensuring access to health optimization, we hope to minimize complications associated with the perioperative period.
Preoperative
All patients will receive a health and risk assessment prior to surgery, which starts with an initial screening questionnaire and review of documented health information. Medical history, known risks associated with surgery, previous anesthetic and surgical history, medications, allergies, and exercise ability are common elements utilized in our pre-surgical review. If clarification is necessary, patients are contacted by phone for additional information. In collaboration with the surgical or proceduralist clinics, additional medical records may be needed as well as general medical and specialist visits to optimize ongoing health issues prior to surgery. Smoking cessation, appropriate nutrition, and medical treatment adherence is strongly encouraged by all team members with the overriding goal to enhance patient safety. Similarly, fasting, medication, and other pertinent instructions will be provided by the multidisciplinary team.
Intraoperative
During the intraoperative phase, our care team follows standardized protocols for individualized, tailored anesthesia care. We ensure that the highest level of safety, quality, and efficiency of care is adhered to in the operating room.
Postoperative
The postoperative period provides patients with a smooth, safe and comfortable transition from the operating room to the recovery room. The team of physicians and nurses will provide medical and pain management care in the Post Anesthesia Care Unit. For complex pain needs, our anesthesia-based Acute Pain Team will be involved in care throughout the remainder of the hospital admission.
Perioperative Medicine
UCI Anesthesiology & Perioperative Care is a pioneer and early proponent in the development of multidisciplinary pathways to streamline patient-centered surgical care. This model provides a framework for systematic communication between the surgeon, anesthesiologist, hospitalist, patient, and other care providers. The result is a seamless integrative approach to surgery. By providing an evidence-based, coordinated plan of care, there has been an improvement in outcomes and efficiencies.
Perioperative Mission:
Standardized clinical assessment
Patient education
Optimization of medical, physical and psychological elements
Coordination of care with highest standards for patient safety as well as efficiency
Reduce cost of care and decrease length of stay
Reduce complication rate and re-admissions
Standardization of practice using evidence based practices and guidelines
Improve overall satisfaction of surgeons, anesthesiologists, nursing and patients
Provide quality and performance improvement measures demonstrating success, outcomes based on research
Faculty
Education Opportunity

We offer a non-ACMGE accredited fellowship in Leadership in Perioperative Medicine.