Pediatric Anesthesiology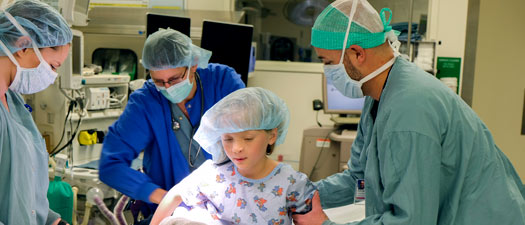 The UCI Anesthesiology & Perioperative Care pediatric anesthesia team includes world-class pediatric anesthesiology trained physicians who are committed to providing safe care to neonatal and pediatric patients.
The UCI pediatric anesthesiology team consists of board-certified anesthesiologists who have specialized training and board certification in caring for complex neonatal and pediatric patients. Caring for pediatric patients requires an understanding of the manner in which they differ from adult patients anatomically, psychologically, physiologically and pharmacologically. Our priority is to provide safe, compassionate, comprehensive care to pediatric patients and their families throughout their entire surgical experience including the perioperative, intraoperative and postoperative periods.
Our skilled anesthesiologists care for infants, children and adolescents who are undergoing a range of surgical procedures including general surgery, burn, cardiothoracic surgery, diagnostic or interventional gastroenterology, diagnostic or interventional radiology, ophthalmology, otolaryngology, urology, plastic surgery, dermatology, neurosurgery or neuro-interventional procedures and orthopedic surgery. In addition, we care for adults with congenital syndromes and pediatric patients with non-pediatric surgical procedures who may have adult surgical illnesses.
UCI Health is the region's only Level II pediatric trauma center and has the most sophisticated neonatal intensive care units. Our pediatric anesthesiology team provides around the clock specialty care for pediatric and neonatal emergencies, burn and traumas. In addition, our pediatric anesthesia care team cares for pediatric patients who are undergoing procedures at the UCI Health Beckman Laser Institute & Medical Clinic and the UCI Health Gavin Herbert Eye Institute.
The UCI School of Medicine has a collaborative clinical affiliation with CHOC Children's Hospital of Orange County to ensure that the children of Orange County have access to the highest quality, leading-edge care. This affiliation means that UCI physicians provide inpatient and outpatient pediatric care and specialty services at CHOC in Orange.
Faculty
UCI Health Pediatric Services

UCI Health provides expert and comprehensive care for children from birth to early adulthood at locations across Orange County.