Point-of-Care Ultrasonography
The Department of Anesthesiology & Perioperative Care is striving to become a leader in point-of-care (POC) ultrasonography. POC ultrasonography is defined as ultrasonography brought to the patient and performed by the provider in real time. POC ultrasound allows the clinician to interpret findings simultaneous with the patient's current signs and symptoms.
The curriculum is designed to help the perioperative physician with their clinical decision making for:
Assessment of volume status
Assistance with vascular access
Determination of mechanisms of hypotension
Assessment of cardiopulmonary function
Other issues relevant to the perioperative physician
This comprehensive whole-body perioperative ultrasound exam have been abbreviated as the F.O.R.E.S.I.G.H.T. exam (Focused periOperative Risk Evaluation Sonography Involving Gastro-abdominal Hemodynamic and Transthoracic ultrasound).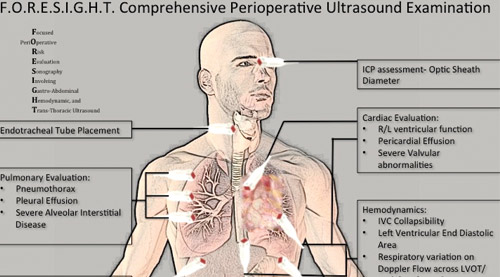 (Click image to enlarge)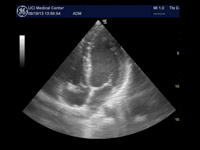 The development of this curriculum and training of its topics to anesthesiology residents at UC Irvine Health School of Medicine has been supported by a grant from the Foundation for Anesthesia Education and Research (FAER).
This is an expanding area of research and quality improvement projects at UC Irvine Medical Center. Our current research in this area includes evaluating teaching straggles to help educate residents on POC ultrasound as well as evaluating the benefit of POC ultrasound for assessing patients in the perioperative setting. We are also developing an educational website and iBook on POC ultrasound. Our department is the first anesthesiology program in the country to publish on the development of this whole body POC ultrasound curriculum for residency training. The concept of a comprehensive POC ultrasound curriculum for resident anesthesiologists improves resident learning and plays an instrumental role in the advancement of resident education.
| Back to Top |