Pain Research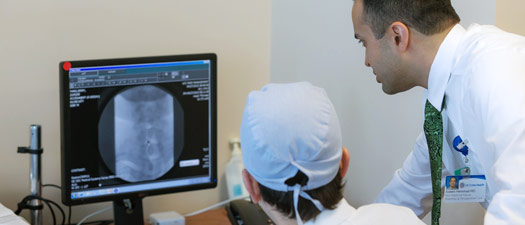 Areas of Interests
Acute Pain
Regional anesthesia is a hot topic in anesthesiology of late, and the acute pain team at UC Irvine Medical Center is helping contribute to the growing body of research in this area. Comparison of different regional techniques for nerve blocks is a standard subject in this field, but we are also looking at intrinsic differences (for example, between genders and different ethnicities) within our diverse patient populations to assess ways of improving post operative recovery time. Finally, studies looking at epidural efficacy and outcomes are under development.
Chronic Pain
Investigators within the Center for Pain & Wellness at UC Irvine Health have developed new techniques to educe the amount of pain their patients experience and to improve their quality of life. This includes an array of procedures, investigations on the feasibility, the outcomes of regional techniques, new treatments.
Dr. Shalini Shah was awarded $100,000 in funding by the American Society of Regional Anesthesia and Pain Medicine (ASRA) for the investigation of Botox treatments for pediatric migraines.
Related Links