UCI Center on Stress & Health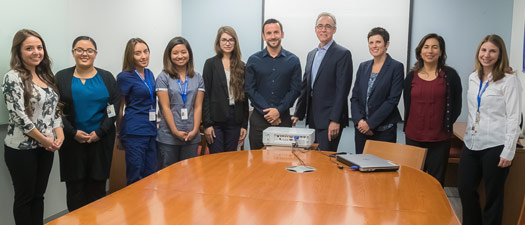 The UCI Center on Stress & Health is dedicated to forming multi-discipline collaborations for the primary objective of assisting patients, children and families manage pain, anxiety and stress surrounding the medical environment and disease burden.
A team of investigators, at the UCI Center on Stress & Health, led by Drs. Zeev Kain and Michelle Fortier, work to reduce the amount of pain and anxiety our pediatric surgical population experience. The focus of the research investigates which behaviors impact a child's postoperative pain and anxiety while in the postoperative recovery area and at home. They analyze the influence of preoperative behavioral interactions between children, parents and health care providers on children's anxiety before surgery. They also look at the relationship between cultural and socio-economical variables and preoperative anxiety in children before surgery. They are also looking at how gender and temperament relate to anxiety before surgery.
Other research in this lab focuses on the treatment of pain in children at home, including the relationship of parental misconceptions regarding analgesia for children and practice of administration of pain medication following surgery. Given the diverse population of patients we serve at the hospital, exploration of the impact of cultural influences on children's pain is also underway. A specific goal of this research is developing evidence-based interventions for pain management of children with cancer.
The incorporation of technology into pain and symptom management is also being examined. For example, new technologies that allow patients and parents to communicate in real time with their treatment team by way of remote symptom monitoring is already showing benefit. Skills training programs delivered via handheld electronic devices for children are also being studied to improve home management of pain and symptoms related to cancer and cancer treatment.
Faculty
Related Links