Medical Simulation Fellowship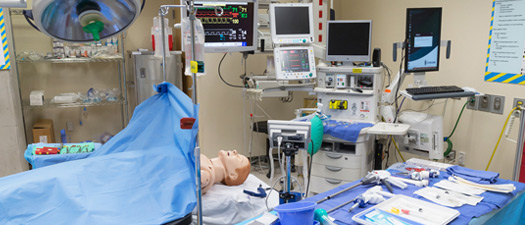 The Department of Anesthesiology & Perioperative Care is proud to announce it is offering a one-year fellowship in Medical Simulation. The simulation fellow will spend three days per week as a simulation fellow and two days per week as a Health Sciences Clinical Instructor in the Department of Anesthesiology & Perioperative Care. Both domestic and international applicants are welcome to apply.
Simulation fellows will gain expertise and comprehensive training in the following areas during the fellowship:
Establishing and leading a multidisciplinary simulation center
Simulation center operations
Simulation for graduate medical education (residency programs in anesthesiology, emergency medicine, pediatrics, etc.)
Simulation for medical students (pre-clinical and clinical years)
Simulation for Continuing Medical Education (CME), practicing physicians, and community health care providers (UC Irvine Medical Center staff, firefighters, paramedics)
Debriefing skills
Scenario development and writing simulation curricula
Research in medical simulation
Grant writing
Simulation technology, tools and contingency planning
Fellow will become involved in various simulation-related research projects and is expected to submit several scenarios and research projects for publication during the course of the year. The fellow will be asked to present his or her research to the department at a grand rounds, prior to graduating.
Facilities and Resources
UCI Medical Education Simulation Center
The state-of-the-art simulation center is part of the $40 million UCI Medical Education Building designed for telemedicine and simulation. The multi-disciplinary UCI Medical Education Simulation Center provides simulation training for all residency programs at UC Irvine, medical students, nursing students, community physicians for CME programs, UC Irvine Medical Center health care teams, Orange County Fire authority and the general public. Anesthesiology residents participate in weekly crisis resource management simulations and multi-disciplinary team training using high-fidelity patient simulators starting in their Fundamental Clinical Skills Education (PGY-1) year. Senior residents (CA-3) with a special interest in learning simulation technology are offered a simulation elective to acquire teaching and research experience in simulation.
The simulation center includes a full scale operating room, emergency room trauma bay/obstetrical operating room suite, clinical ward and critical care unit for simulation training. The simulators include the METI Human Patient Simulator (HPS), METI BabySim, Laerdal SimMan 3G and Laerdal SimBaby. The simulated operating room is fully equipped and realistic with all standard medical gases, an anesthetic scavenging system, GE Aisys anesthesia machine with Navigator Applications Suite, and the latest airway equipment and OR design from Karl Storz. With the consent of participants, all simulation sessions are videotaped for education and research using the audiovisual system from B-line Medical.
Anesthesiology Simulation at UCI Medical Center
At the medical center, anesthesiology residents participate in a series of transesophageal echocardiography simulations, procedural simulation with a variety of task trainers and an annual cadaver course for regional anesthesia procedures. The UCI Health Perioperative Simulation Center and the C³REST Center are dedicated educational space at UC Irvine Medical Center.
UCI Perioperative Simulation Center Equipment:
Arterial line simulators
Cricothyrotomy simulators
Difficult airway simulators
Fiberoptic dexterity trainers
Spinal and epidural simulators
Transesophageal echocardiography (TEE) simulator
Ultrasound guided central line simulators
Ultrasound guided peripheral nerve block simulators
Anesthesiology residents also participate in surgical simulation and cadaver workshops for regional anesthesia on an annual basis at the C³REST Center. Anesthesiology residents have access to laparoscopic surgery simulators, robotic surgery simulators and suturing models for a complete perioperative experience.
Salary
The simulation fellow will work part time as a clinical instructor two days per week, thereby self funding his or her fellowship. His or her salary will be approximately $80,000 per annum with benefits. Four weeks vacation and one week of conference time is provided as well as a $1600 educational fund. In addition, the department will sponsor the simulation fellow to attend the International Meeting on Simulation in Healthcare meeting and any other society meetings where the fellow is invited to be a presenter.
Requirements
Completion of a residency in the United States and all 3 steps of USMLE. Applicants must be able to obtain a California medical license.
For other simulation fellowship opportunities and for those who do not meet these requirements, please contact medsim@uci.edu or visit: www.medsim.uci.edu for more information.
International physicians who would like to apply, please review these requirements.
Application Process
Applicants will be asked to submit the following:
Curriculum Vitae (CV)
Two letters of recommendation
Personal statement expressing why he/she is interested in this fellowship
Qualified applicants will be invited to interview with simulation faculty as well as the chair. Since the fellow will also be acting as a clinical instructor and teaching residents several days per week, the applicant will also interview with an operations officer, a vice or associate chair and the program director.
Email required documents to:
anesthfellowship@uci.edu
Contact Information
Please direct all inquiries to:
Fellowship Coordinator
Rogelio (Roger) Hernandez
Email: anesthfellowship@uci.edu
Phone: 714-456-5835
Director, Medical Education Simulation Center
Program Director
Cameron Ricks, MD