Simulation Training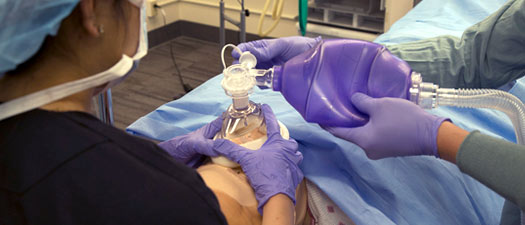 The UCI Perioperative Simulation Center combines a small-scale simulation center and mobile simulation activities to provide medical simulation research, education and training for perioperative needs within the medical center. Our unique combination of resources allows for private simulations on the medical campus as well as in-situ simulations within the hospital itself.
The Perioperative Simulation Center currently provides an avenue to promote patient safety through evaluation of systems and practices. Our center provides a wraparound service, assisting with assessment of problems; creation of research and education plans, and evaluation of the results of implemented plans.
Simulation is also a growing tool for education and training healthcare professionals. The Perioperative Simulation Center provides high fidelity simulations and workshops for attending physicians, fellows, residents, nurses, students, and the community.
Mission
To assess, define, and provide solutions to perioperative healthcare needs in order to improve patient safety through simulation technology based education and research for healthcare professionals and the community.
Core Values
Evaluation
Provide a systematic approach to evaluate needs and gaps of perioperative systems, multidisciplinary teams, and competencies of clinicians.
Innovation
Establish technologically innovative and multimodal simulation approaches to research, policy and curriculum development.
Excellence
Strive to meet the highest standard of excellence in the clinical setting through robust training and research of clinical education, patient safety and multidisciplinary teamwork.
Accountability
Focus on skill sets to promote cohesiveness and a culture of accountability to patient safety, system evaluation and transparency within departments and the medical center.