Workshops
Airway Workshop
The airway workshop is held in the middle of the CA-1 year and is a hands-on, multi station workshop to provide skills necessary for advanced airway management.
The workshop includes instruction and practice with the following:
Fast track LMA
Glidescope
Pediatric fiberoptic scope
Adult fiberoptic scope
Retrograde intubation
Cricothyrotomy and transtracheal jet ventilation
Combitube
Cardiovascular Workshop
The cardiovascular workshop is a review session designed for CA-3 residents preparing to take their boards. The workshop focuses on TEE, CCO, SVV and Goal-Directed Therapy, as well as Swan-Ganz monitors, interpreting pressure waveforms, and common cardiac diseases.
Pain Management Cadaver Workshop
The pain management cadaver workshop is a review session designed for pain fellows as well as residents interested in pursuing a career in pain management. It is generally held in the anatomy lab and focuses on providing didactics and a review of pertinent anatomy followed by training with cutting-edge pain procedures. This dynamic curriculum includes hands-on training with neuraxial and peripheral neuromodulation, intrathecal drug implantation devices, and genicular neurotomy.
Point-of-Care Ultrasound
Point-of-Care Ultrasound has been an expanding part of perioperative care and has become a large focus in anesthesia residency training. An integrated Point-of-Care Ultrasound is included into the anesthesia resident's "4U" Didactic Program with six workshops per class per year. The didactic sessions use the portable Sonosite iViz ultrasound machines to gain hands-on training with live models. The goal is for residents to gain exposure and experience to be able to bring Point-of-Care Ultrasound into a daily practice. The portable ultrasound machines are available to residents at any time to use for educational purposes. The Clinical Base Year class have a two week ultrasound rotation that teaches the basics of Point-of-Care Ultrasound and allows for early exposure to the ultrasound curriculum to form the basis for the workshops in the clinical anesthesia years.
Regional Workshop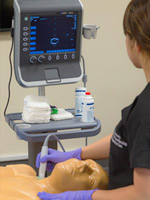 The annual regional workshop is designed to give hands-on, one-on-one training to the residents in common regional techniques. Individual stations are set up for reviewing landmarks and approaches to nerves. Ultrasound localization of all of the major block areas (femoral, sciatic, axillary, interscalene, popliteal) is done in pairs with attending guidance.