The "4U" Didactic Program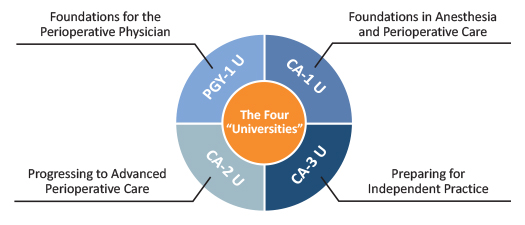 The UCI Department of Anesthesiology & Perioperative Care provides residents an innovative and comprehensive educational curriculum called "4U". Each "U", or "University", represents one of the four years of anesthesiology training so that residents progress from acquiring the fundamental knowledge needed to be a perioperative physician beginning in the fundamental clinical skills year to preparing for independent practice in the senior year.
Each resident class is provided a protected education day every four-week period. These "4U Days" are tailored to each specific resident class and include a variety of activities including case conferences, simulation and interactive didactics. The American Board of Anesthesiology (ABA) content outline, ACGME training requirements and Milestones guide the session topics for the didactic days. These didactic days supplement intraoperative and clinical rotation specific teaching that occurs daily.
The 4U day was a great education session. I learned a great deal and was engaged throughout because of the variety of presentation formats throughout the day. It motivated me to study more even after the session was over.

CA-2 Resident
We have made an effort to diversify the didactic formats so as not to rely heavily on the traditional lectures with PowerPoint. To help residents prepare for the ABA Staged Exams, each didactic session includes written board questions review, journal club, problem-based learning discussion and resident led ABA keyword reviews. While CA-1 sessions focus on basic anesthesia, CA-2 and CA-3 sessions cover advanced topics with an emphasis on clinical subspecialties. Whenever possible, these sessions are led by faculty with subspecialty expertise or particular interest.
Wellness, Perioperative Surgical Home (PSH), quality and patient safety, Lean Six Sigma training and a professional development series (personal finance and career building tools) run throughout the four year curriculum as well.
Visiting professors give an interactive lecture to residents during the 4U Day before their grand rounds presentation. Additionally, we have special guest speakers who come and speak about the history of anesthesia, recent graduate talks and even research specific librarians who come and share their expertise. A fellowship panel gives insight to the CA-2 year on how to navigate the decision and the fellowship application process.
Workshops and simulation are important roles in resident education at UCI and have been fully integrated into the 4U Day. Almost every session includes a Point-of-Care Ultrasound (POCUS) session or a simulation session and workshops are included in throughout the year. To prepare CA-2 and CA-3 residents for a new component of their board certification process, there is an annual mock Objective Structure Clinical Examination (OSCE).
Fundamental Clinical Skills of Education (PGY-1)
Residents in their first year of training have education days every fourth Thursday of the month. Areas of focus include anatomy, monitors, equipment, physiology, pharmacology and pathophysiology of disease states as it relates to anesthesia. Reading assignments from Basics of Anesthesia by Ronald D. Miller, corresponds to session topics. Case discussions that integrate basic knowledge into clinical context aim to make learning engaging and interactive. Incorporating a structured learning program in the fundamental clinical skills of education year also gives residents an opportunity to bond with fellow residents and faculty early on during training. PGY-1 residents rotate as a class onto anesthesiology for a four-week rotation of Anesthesia Bootcamp. This provides a smooth transition to clinical anesthesia by emphasizing the basics of anesthesia, patient safety and system-based practice. PGY-1 residents are paired one-on-one with a faculty or senior resident for the first week of anesthesiology.
Clinical Anesthesia Years (CA-1, CA-2, CA-3)
Residents in their clinical anesthesia years have education days on the second through fourth Wednesday of each month, alternating between each resident class. Each session is devoted to a specific specialty and is tailored to the class level.
Evaluations
Anonymous online session feedback from residents and faculty instructors are regularly reviewed by our Curriculum Committee to ensure quality of didactic sessions.
Examinations
All anesthesia residents are expected to take the American Board of Anesthesiology In-Training Exam (ABA ITE) each Spring. Clinical Anesthesia Year residents are expected to take the ABA BASIC at the end of the CA-1 year, the Anesthesia Knowledge Test (AKT) at one, six and 24 months of training and mock oral board exams throughout the year. A senior ABA Board Examiner conducts regular mock oral exams during the CA-3 sessions.
Mentoring
Every resident is assigned a faculty mentor to provide guidance throughout residency.
Leadership Development
This new four-year curriculum is designed to help residents learn the fundamental skills and knowledge to become an effective leader. Through assigned reading, self-reflection and small group discussions, residents will understand their strengths and weakness as a leader. This leadership development curriculum will help residents learn about conflict management styles, emotional intelligence, principles of teamwork and performance improvement.
Mock Objective Structure Clinical Examination (OSCE)
Our residents each participate in an annual mock Objective Structure Clinical Examination (OSCE). The session has been developed to closely mirror the actual board certification exam that will occur in Raleigh, North Carolina on the same day as the Oral Board Examination. Residents cycle through nine, eight-minute testing stations that focus on any of these skill sets:
Informed consent
Treatment options
Peri-procedural complications
Ethical issues
Communication with other professionals
Practice-based learning and improvement
Interpretation of monitors
Interpretation of echocardiograms
Application of ultrasonography
The mock OSCEs are based on the ABA Content Outline and include standardized patients, ultrasound models, simulated exam rooms and monitors. Standardized checklists are used to evaluate residents on communication and professionalism, as well as understanding and application of medical knowledge.
Point-of-Care Ultrasound (POCUS)
Point-of-Care Ultrasound (POCUS) has been an expanding part of perioperative care and has become a large focus in anesthesia residency training. An integrated POCUS is included into the "4U" Didactic Program with six sessions per class per year. The sessions use portable Sonosite iViz ultrasound machines to gain hands-on training with live models. The goal is for residents to bring POCUS into a daily practice by gaining more exposure and experience with this technique.
PGY-1 residents have a two-week ultrasound rotation that teaches the basics of POCUS and allows for early exposure to the ultrasound curriculum to form the basis for the workshops in the clinical anesthesia years.
Simulation Curriculum
Simulation is an important part of resident education and is integrated throughout the course of residency training. It provides a unique learning environment where residents have the opportunity to practice the management of common critical events and rare anesthetic crises in a controlled setting and supportive learning environment. A particular emphasis is placed on developing skills in leadership, communication and critical decision-making in a variety of clinical situations, as the SimMan 3G is mobile, which includes multidisciplinary team-based sessions in the hospital itself. Residents may run to an airway emergency while carrying the code pager and become involved in a fully immersive simulation. At the end of each simulation session, residents have an open and supportive debrief where more learning occurs.
Fundamental Clinical Skills of Education (PGY-1)
Anesthesia Crisis Resource Management
Clinical Anesthesia Years (CA-1, CA-2, CA-3)
Simulation sessions are scheduled throughout the year, covering a wide variety of topics and subspecialty scenarios for each clinical anesthesia year. Four simulation sessions are led by a simulation trained faculty as well as a content expert.
The First Month Orientation for the CA-1 year includes afternoon didactics following mornings in the operating room. There are a number of simulation sessions and topics emphasized during this introductory series, which includes:
Anesthesia machine, monitors and equipment
Induction and airway management
Hemodynamic changes during anesthesia
Emergence from anesthesia and immediate post-anesthetic care issues
Hypoxia, hypercarbia and increased peak airway pressure
Hands-on workshops (airway management, central and arterial lines, spinals, epidurals and ultrasound-guided regional nerve blocks)
Additionally, the CA-1 year are exposed to TEE using the HeartWorks TEE Simulator. During the CA-2 and CA-3 year, residents participate in a series of TEE simulation workshops ending in a practical examination where each resident must demonstrate general competency with the TEE examination.
Wellness Program
Our PGY-1 residents go through a fatigue and stress management series. In recognition of the stressors and demands associated with residency training, we provide our first year residents with a stress management intervention that is based on a tripartite conceptual model of adaptive coping behavior: attacking the problem, rethinking the problem and managing the stress.
The model is derived from Pearlin and Schooler's (1978) hierarchy of coping mechanisms:
Responses that change the situation
Responses that control the meaning of the stressful experience
Responses that function more to control stress after it has emerged
The aim is to teach behavioral, social and cognitive coping strategies to modify work and family risk and protective factors, given the relationship of these factors to psychological symptoms and substance use.
The first component of the intervention focuses on teaching methods to residents that can potentially eliminate or modify the sources of stress.
The second component teaches techniques that do not eliminate the stressor, but which help to modify cognitive and appraisal processes that lead to or exacerbate the experience of stress.
The third component emphasizes stress management and minimizing the use of avoidance coping.
Throughout, the focus is on the development and application of skills to meet demands encountered in work and family environments. The final session integrates the course material through the creation of participants' own personal stress management plans.
Our wellness curriculum continues throughout the entire residency, broadening to include but not limited to: yoga, nutrition and meal preparation, the scarcity mindset, sleep hygiene, a resident's support group and AMA StepsForward content.
Workshops
Active learning is far more effective than passive, stand and delivers lecture formats. For that reason, we incorporate multiple hands-on workshops into the curriculum.
Fundamental Clinical Skills of Education Year (PGY-1)
Arterial line workshop
EKG workshop
Research workshop
Basic monitors and basic airway workshop
Advanced monitors workshop
CA-1 Year
Adult airway workshop
Pediatric airway workshop
CA-2 Year
Cardiovascular workshop
Neuraxial (epidural/spinal) workshop
Pediatric airway workshop
Regional anesthesia workshop
Advanced monitors workshop
Advanced airway workshop
Cardiovascular Workshops
The cardiovascular workshop is a review session designed for CA-3 residents preparing to take their Boards. The workshop focuses on TEE, CCO, SVV and Goal-Directed Therapy, as well as Swan-Ganz monitors, interpreting pressure waveforms and common cardiac diseases.
Airway Workshops
The airway workshops include instruction and practice with the following:
Fast track LMA
Glidescope
Adult and pediatric fiberoptic scope
Double lumen tube and bronchial blocker
Retrograde intubation
Cricothyrotomy and transtracheal jet ventilation
Combitube
Exchange catheters
Research Workshop
The research workshop will give residents formal education from the medical sciences librarian, research support staff and Vice Chair for Research on effective literature searches, evidence-based medicine, basic statistics, IRB applications process and current basic and clinical research opportunities. Residents also receive a scheduled tour of the basic science labs on the UCI Campus.
Regional Workshop
The regional workshop is lead by faculty to give hands-on training to residents on common regional anesthesia techniques. Using patient models, landmark and ultrasound-guided techniques are reviewed during this workshop. The workshop will help reinforce the knowledge and skills acquired during the regional anesthesia rotation.