Leadership in Perioperative Medicine Fellowship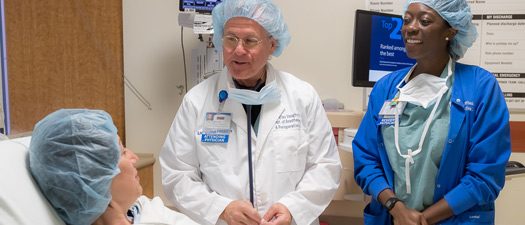 Our innovative leadership in perioperative medicine fellowship has been created to help prepare the anesthesiologist leaders of the future. This dynamic one-year curriculum is designed to cultivate the applicant's skills in leadership, quality and safety, perioperative management and perioperative medicine and can be customized to the candidate's interests.
Fellows that are accepted into this program will receive formal and hands-on training in the management of anesthesia services, perioperative services, perioperative medicine and the larger healthcare system. In perioperative management, the fellows will gain experience and knowledge in risk management, quality assurance, performance improvement, patient safety, regulatory affairs, compliance, billing and financial management. The fellowship will provide the opportunity to develop a practical understanding about the development and implementation of the Perioperative Surgical Home model of care. The fellow will gain leadership skills in building and monitoring evidence-based clinical pathways within a value-based accountable care organization paradigm. Fellows will gain further experience with supervision of medical students, residents, nurse practitioners and nurses within the context of the lively perioperative environment. Evidence-based opportunities to enhance patient care throughout the surgical continuum include: collaborative decision making, lifestyle modification before surgery, standardized in-hospital care, achieving full recovery and using clinical data for quality improvement.
This fellowship consists of structured didactics, rotations with organizational leadership, and mentored clinical quality improvement projects. The fellow will participate in various task forces and committees of the Quality Department and Risk and Regulatory Affairs. The curriculum has been developed to expose fellows to various quality and patient safety tools to effectively lead change. In order to maintain clinical competency, the fellows will maintain a small percentage of clinical practice as a part of the fellowship program. The fellow will have a chance to work with the department research staff as well as nationally acclaimed faculty at the university level during the fellowship.
The curriculum is designed to provide some flexibility tailored to each fellow's needs. The fellow will have a primary mentor who will provide guidance in professional development and meet on a regular basis to provide feedback and assistance in achieving the fellow's goals.
This fellowship is 12 months in length and may be modified at the discretion and agreement between the fellow and the Program Director. Recruitment is ongoing and positions are dependent upon extramural funding.
Training
Fellowship training consists of:
Quality tools, quality measurement, quality improvement
Science of patient safety, human factors, high reliability
Adverse events management, root cause analysis
Risk management strategies
Leadership and change management
Perioperative Surgical Home and Enhanced Recovery After Surgery
Operating room management
Basics of hospital administration
Health policies and ethics
Biostatistics
Design and analysis of clinical studies
Salary
The fellow will work as a Health Sciences Clinical Instructor two days per week. The salary will be approximately $80,000 per annum with benefits with opportunity for further salary augmentation. Four weeks vacation and one week of conference time is provided per year.
Requirements
Completion of an ACGME accredited anesthesia residency program, DEA license and California medical license prior to start of fellowship. Candidates must be board-certified or eligible for certification in anesthesiology.
Application Process
Please submit the following:
Curriculum Vitae (CV)
Cover letter
Names of at least three references and contact information
Email required documents to:
anesthfellowship@uci.edu
Qualified applicants will be invited to interview with the director of the fellowship program as well as other clinical faculty.
Contact Information
Please direct all inquiries to:
Fellowship Coordinator
Tina Petrosian
Email: anesthfellowship@uci.edu
Phone: 714-456-5835
Program Director
Ramin Rahimian, MD, MBA