Combined Pediatrics & Anesthesiology Residency Program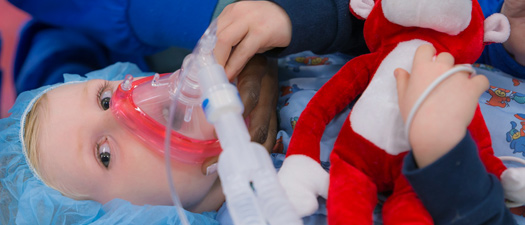 The field of pediatric anesthesiology is a well-established subspecialty within anesthesiology, a combined program with dual training in the fields of pediatrics and anesthesiology is an exciting new development.
Our five year (PGY-1 to PGY-5) combined program was one of the first of three programs in the country and the second approved by the American Board of Anesthesiology (ABA) and the American Board of Pediatrics (ABP).
Benefits of Training in a Combined Program
Board certification eligibility in both pediatrics and anesthesiology
The American Board of Pediatrics and the American Board of Anesthesiology have approved our combined training program. Successful completion of training in this training program enables graduates to become board eligible in both pediatrics and anesthesiology.
Develop careers focused on caring for children
Graduates may develop careers focused on caring for children with complex medical and surgical conditions who are hospitalized and/or require perioperative, periprocedural management.
Flexibility to work within both specialties
Graduates ideally will pursue careers in specialized fields that integrate skills from both pediatrics and anesthesiology. For example, graduates may specialize in pediatric intensive care, neonatal intensive care, pediatric Perioperative Surgical Home (PSH) or in any of the many specialties within pediatric anesthesiology such as pain, cardiology, trauma, and transplant. Graduates may also seek fulfilling careers as pediatricians caring for patients in the inpatient and outpatient settings, while also dedicating some time as a general adult anesthesiologist.
Become the bridge between both specialties, during and after residency
Graduates will use their procedural and critical care acumen from anesthesiology and apply it to medical student, resident and colleague education in pediatrics. Graduates will be able to apply their expertise in pediatrics when providing anesthetic care to patients with history of complex congenital and childhood syndromes.
Graduates become leaders in their fields
With the extensive training in both pediatrics and anesthesiology, our graduates will have unique qualifications that will open doors to a wide variety of career options.
The skills learned in this program open many doors of opportunity, be it in pediatric anesthesiology, critical care, pain medicine and beyond. The traditional pathway to pediatric anesthesiology via an anesthesiology residency may not be enough training to the resident who wants a deep understanding of pediatric disease and perioperative management. A combined residency also gives eligibility to pursue any subspecialty within pediatrics, including critical care medicine, which is not available to traditional anesthesia residents. I'm frequently consulted on preoperative optimization of complex children seen in my continuity clinic; my experiences in anesthesia and the perioperative surgical home are quite valuable in such scenarios. I am currently applying to pursue a fellowship in pediatric anesthesiology, with advanced training in pediatric cardiac anesthesiology. I know that the experience gained in this program will give me a particular advantage as an applicant, and ultimately as a more capable clinician.
- Mohammad Esfahanian, MD (Resident Class of 2018)
Why UC Irvine?
Monthly education days
To maintain continuity within each specialty, residents attend monthly anesthesiology didactics during their pediatric rotations, as well as pediatric didactics and clinic during their anesthesiology rotations.
Diverse training experiences at top tier hospitals
Our residents rotate through three freestanding children's hospitals: CHOC Children's, Miller Children's & Women's Hospital and Children's Hospital of Los Angeles (CHLA).
Pioneer in establishing the Perioperative Surgical Home (PSH) initiative
The Department of Anesthesiology & Perioperative Care spearheaded the Perioperative Surgical Home initiative here at UCI Health. We are leading the way and revolutionizing how healthcare is delivered in the perioperative setting.
Faculty advisors from anesthesiology and pediatrics
Dr. Debra Morrison, Clinical Professor of Anesthesiology and pediatric anesthesiologist, serves as the program's advisor and each resident's personal mentor. She also advocates for our residents nationally.
Our anesthesiologists are highly invested in our program
Many of our faculty serve in leadership positions within UCI Health, Graduate Medical Education, and the UCI School of Medicine. Residents in the combined training program will also work alongside, Dr. Shalini Shah, a pediatric acute and chronic pain specialist.
Excellent leadership opportunities
Combined training program residents are eligible to become chief resident during their PGY-4 or PGY-5 year. Our residents may also be eligible to attend or present at regional and national conferences.
Extremely receptive program directors
Our program directors actively shape the program according to resident training.
Training
The opportunity to experience different practice styles is especially important to this field and residents benefit from rotating at UCI and its affiliated hospitals. Residents will spend their first year of training focusing on pediatric rotations. Their second year will be focused on anesthesiology rotations. During years three to five, residents alternate between the two specialties in three-month blocks. The rotation blocks have been designed to build on previous rotations, this way residents can maintain and build on learned skill sets. This schedule fulfills the Accreditation Council for Graduate Medical Education (ACGME) requirements.
The program directors in anesthesiology and pediatrics work jointly to provide an excellent training experience in each specialty. Program directors always emphasize on competence in managing critically ill pediatric patients and pediatric patients undergoing invasive and noninvasive procedures.
Recruitment
Currently there are no positions available for the 2020 MATCH® cycle.
Contact Information
Please direct all inquiries to:
Medical Education Coordinator
Rhonda Chu
Phone: 714-456-6661
Email: anesthrescoor@uci.edu
Program Director, Anesthesiology
Program Director, Combined Pediatrics & Anesthesiology
Kyle Ahn, MD
UCI Anesthesiology & Perioperative Care
Program Director, Pediatrics
Associate Program Director, Combined Pediatrics & Anesthesiology
Tommy Wang, MD
UCI Pediatrics
Chief, Pediatric Anesthesia
Debra Morrison, MD
UCI Anesthesiology & Perioperative Care