Pain Medicine Fellowship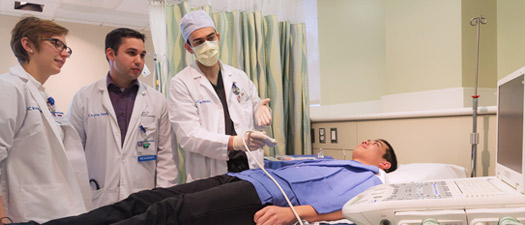 The Department of Anesthesiology & Perioperative Care pain medicine fellowship is a one year ACGME accredited training that is first of its kind as it is the only academic pain medicine program in Orange County. Truly interdisciplinary, the fellow will become an expert at interventional pain management with the use of different treatment modalities.
The pain medicine fellowship participates in a nationwide best practice to ease the transition from residency to fellowship with an August 1 start date. This was established due to the recognition of the time required for Board Examination preparation and if needed, geographical relocation.
Trainees in the fellowship program will be exposed to a variety of treatment modalities, that include, spinal cord stimulation, intrathecal pain therapy, kyphoplasty, cranial facial head and neck blocks, advanced interventional techniques, electrodiagnostics, psychological and cognitive therapies, regional anesthesia, opioid and adjunctive medication management. Trainees will also have a very rare clinical opportunity in pediatric pain medicine, one of the most robust in the nation.
With a renewed focus on multi-specialty training, each fellow will rotate through subspecialty rotations, such as anesthesiology, neurology, pediatrics, physical medicine and rehabilitation, medicine, neuroradiology, palliative care and psychiatry.
UCI Health has been nationally featured on these media outlets for the use of Botox® to treat chronic migraines in children.
Our highly innovative and structured curriculum will well prepare graduates for board certification, practical knowledge and expertise in the field of pain medicine. Our goal is to develop future leaders with a specialized focus in hospital administration and learn the business of medicine to position each graduate in a leadership capacity.
Why UC Irvine?
Innovative Pain Program
Imagine a truly integrative fellow education of patient centered pain management in basic and advanced interventional techniques. Trainees will learn from expert faculty who performs advanced procedures for complex pain management including spinal cord stimulation implantation, intrathecal therapies and kyphoplasty. The program will also give trainees a specialty experience in complex craniofacial pain syndrome.
When I first visited UCI Health, I quickly learned that I would have an exceptional opportunity to learn all aspects of pain medicine to prepare me for clinical practice. This multi-disciplinary pain program affords a comprehensive training experience to every facet of pain management. The astute faculty is eager to teach and bolster the trainee's educational experience. Whatever your goal, private practice or academic medicine, the pain management department at UCI is well suited to prepare you for your clinical pursuits.

Pritesh Patel, MD (Fellow Class of 2018)
Pain Medicine Research
We have a strong pain medicine research interest with numerous opportunities for basic and clinical pain research. These opportunities lie both within our own division and within the university, which is known nationally for its research in stem cell biology and spinal cord injury. Our research investigators collaborate with other departments within the university, such as the Susan Samueli Integrative Health Institute and the UCI Center for the Study of Cannabis. Our simulating research environment includes studies that are funded by national grants from prominent pain societies. Our clinical and basic research scientists and faculty are dedicated to discovering cutting edge pain treatment options.
Learn more about Pain Medicine Research »
Perioperative Pain Clinic
Trainees will have an opportunity to be part of the Perioperative Pain Clinic. The clinic is dedicated to providing patients with an effective pain management plan that includes preoperative preparation, intraoperative care optimization and postoperative planning. Numerous studies have revealed that perioperative pain is often undertreated, resulting in a major health burden for patients. We are leading research efforts that aim to promote population health in the context of pain management and acute surgical care. Trainees will work with a multidisciplinary group of primary care doctors, nurses, pharmacists, therapists and surgeons to identify and develop treatment strategies for operations and factors that parallel escalated pain risk.
Focus on the Business of Healthcare
Trainees will also be exposed to a variety of opportunities to become a leader in the healthcare industry. We strongly encourage participating and joining special tasks force and committees within the pain society to further develop their education and leadership skills.
Pain Medicine Faculty
Our pain medicine faculty comes from prestigious institutions who are trained and board certified in pain medicine. This unique group of faculty has been recognized to have additional expertise in pediatric pain, practice management, patient quality and safety, including leading the cause for safe opioid prescribing. Our faculty is active in many pain societies, including the American Society of Regional Anesthesia, the American Pain Society, the North American Neuromodulation Society, the California Society of Anesthesiologists and the American Society of Anesthesiologists.
Training
During the fellowship, training will take place at the UCI Health Center for Pain & Wellness and at UCI Medical Center for our acute pain service that will expose fellows to a high volume and large variety of ultrasound-guided nerve blocks.
At the end of the fellowship, fellows will have experienced and learned the following:
Performance of a full complement of neuraxial and sympathetic injections
Peripheral injections in the clinic
Trialing, implantation, and management of dorsal column and peripheral nerve stimulators
Intrathecal pump trial, implantation, refill technique and management
Radiofrequency therapies
Performance and interpretation of EMG and nerve conduction studies
Teach billing and coding, on each procedure and clinic visit
Ultrasound guided regional anesthesia techniques
Thoracic epidurals for thoracic trauma
Botulinum toxin therapy for the treatment of pain and spasticity
Develop personalized physical and occupational therapy programs
Prescribe appropriate prosthetics and orthotics
Prescribe pharmacologic and non-pharmacologic therapies
Prescribe opioid and non-opioid analgesics
Refer and follow patients undergoing pain psychology interventions
Curriculum
Interventional Pain Procedures
Approximately two to four half days per week are spent doing interventional procedures at the UCI Health Center for Pain & Wellness at the Gottschalk Medical Plaza. The center is equipped with two fluoroscopy suites, a state-of-the-art ultrasound machine and a full suite of recovery bays for patient care. All procedures are staffed by an attending physician, radiology technician and two on-site fluoroscopy technicians.
Clinic
Approximately three to five half days per week are spent at the UCI Health Center for Pain & Wellness. The center has seven examination rooms, an electromyography/nerve conduction study machine (EMG machine) and a musculoskeletal ultrasound machine for both diagnostic and therapeutic purposes. Physicians and fellows have a collaborative relationship with the therapists from the UCI Department of Physical Therapy. We also staff our pain psychologist, allowing the fellow to experience the multimodal therapies useful in the treatment of chronic pain.
Rotations
Approximately one to two half days per week are spent in subspecialty rotations. Fellows with residency completion in anesthesiology, physical medicine and rehabilitation, neurology or psychiatry are excused from the applicable rotations.
Anesthesiology
Electrodiagnostics
Neurology
Neuroradiology
Palliative care
Pediatric pain
Psychiatry
Psychology (adult pain psychology and/or pediatric pain psychology)
Physical medicine and rehabilitation
Acute and Chronic Pain Consultation Service
Fellow will rotate through the Acute Pain Service, a consultation service for inpatients with acute or chronic pain. In addition, fellows will have exposure to ultrasound-guided regional anesthesia for approximately four weeks per year.
Operation Room Procedures
Operating room procedures, which include trials of spinal cord stimulation, implantation of dorsal column and peripheral nerve stimulators and trail and implantation of intrathecal drug delivery systems, occur in the state-of-the-art operating rooms at UCI Health Douglas Hospital.
Didactics
Didactic events include small group board oriented lectures, physical examination practice sessions, journal club discussions and multidisciplinary case conferences. Fellows will participate in approximately 5 hours of didactics per week. The curriculum includes all ACGME-required topics and topics that focus on epidemiology and research preparation, research study design, pain medicine board preparation, pain practice business preparation, billing and coding.
Call
Fellows take about two weekend per month of at home pager call that is kept within the ACGME limits during their training. When on call, the fellow will round on the weekend for inpatient chronic pain consultation services.
Moonlighting
Fellows have the opportunity for internal moonlighting for anesthesiology. Moonlighting should enhance the fellow's education and not interfere or compromise with the required learning.
Application Process
As an ACGME accredited pain medicine fellowship, the fellowship participates in the NRMP's (National Resident Matching Program) Pain Medicine Match.
Applications for the fellowship will be accepted through the Electronic Residency Application Service (ERAS®).
Contact Information
Please direct all inquiries to:
Fellowship Coordinator
Tina Petrosian
Email: anesthfellowship@uci.edu
Phone: 714-456-5835
Program Director
Rakhi Dayal, MD