Pain Medicine Fellowship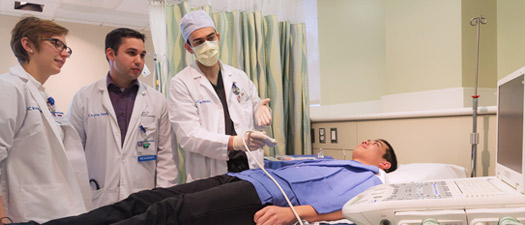 The pain medicine training program at UC Irvine is the first of its kind as we are the only academic pain medicine program in Orange County. We boast an Accreditation Council Graduate Medical Education (ACGME) accredited program in excellent standing.
Truly interdisciplinary, the fellow will become an expert at interventional pain management, opioid and adjunctive medication management, as well as non-interventional pain management. Personalized physical and occupational therapy, offloading therapy, acupuncture, advanced interventional procedures, electrodiagnostics, psychological and cognitive therapies, and regional anesthesia are common treatment modalities used at the UC Irvine Medical Center. Fellows will be well prepared to treat patients holistically.
For more information about the UC Irvine Health Center for Pain & Wellness, visit:
UC Irvine School of Medicine has ACGME accredited residency training programs in anesthesiology, physical medicine and rehabilitation, neurology, radiology and psychiatry, hospice and palliative care. With a renewed focus on multi-specialty training, each fellow will rotate through key pain related fields, such as rehabilitation medicine, anesthesiology, neuroradiology, palliative care, neurology, and psychiatry. As a Level I Trauma Center, a stroke center and the only academic pain program in Orange County, we guarantee your fellowship training will be excellent.
The fellowship provides both outpatient chronic pain clinical care and procedures and runs a busy inpatient pain service that will provide fellows exposure to a high volume and a large variety of ultrasound guided nerve blocks. We also have a unique group of faculty with additional expertise in pediatric pain, practice management, and quality and safety, including leading in safe opioid prescribing.
We have strong pain medicine research interests, with a pediatric pain program and numerous opportunities for basic and clinical pain research. These opportunities lie both within our own division and within the university, which is known nationally for its research in stem cell biology and spinal cord injury.
Imagine a truly integrative fellow education in patient centered pain management. Imagine competency in basic and advanced interventional techniques, medical and pharmacotherpeutic pain management, musculoskeletal ultrasound, electro diagnostics, spasticity management, psychological management (including cognitive behavioral therapy and meditation therapies) with training in personalized occupational and physical therapy prescription writing, the use of the physical modalities, exercise techniques, acupuncture, prosthetics, orthotics and even regional anesthesiology techniques. The future is here.
Training
Fellows here will be experiencing the following during their fellowship along with this Curriculum:
Performance of a full complement of neuraxial and sympathetic injections
Peripheral injections in the clinic
Trialing, implantation, and management of dorsal column and peripheral nerve stimulators
Intrathecal pump trial/implantation, refill technique, and management
Radiofrequency therapies
Performance and interpretation of EMG and nerve conduction studies
Teach billing and coding, on each procedure and clinic visit
Ultrasound guided regional anesthesia techniques
Thoracic epidurals for thoracic trauma
Botulinum toxin therapy for the treatment of pain and spasticity
Develop personalized physical and occupational therapy programs
Prescribe appropriate prosthetics and orthotics
Prescribe pharmacologic and non-pharmacologic therapies
Prescribe opioid and non-opioid analgesics
Refer and follow patients undergoing pain psychology interventions
Application Process
As an ACGME accredited pain medicine fellowship, the fellowship participates in the NRMP's (National Resident Matching Program) Pain Medicine Match.
Applications for the fellowship will be accepted through the Electronic Residency Application Service (ERAS®).
Contact Information
Please direct all inquiries to:
Britney Prince
Fellowship Coordinator
Email: anesthfellowship@uci.edu
Phone: 714-456-5835
Danielle Perret Karimi, MD
Interim Program Director
Associate Clinical Professor
Physical Medicine & Rehabilitation