Obstetric Anesthesiology Fellowship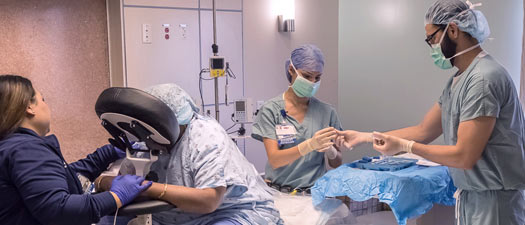 The Obstetric Anesthesiology Fellowship is a comprehensive one-year non-ACGME accredited program designed to develop future leaders in the field of obstetric anesthesia. In partnership with Long Beach Memorial Medical Center, fellows will have the opportunity to train at two major healthcare institutions.
Our aim is to provide each fellow with outstanding clinical experiences that will further enhance knowledge and skills to safely and effectively provide superb obstetric anesthesia care to all pregnant patients, including patients with a wide variety of maternal-fetal, medical and surgical conditions. As an integral member of the obstetric anesthesia team, fellows will train with board-certified and fellowship-trained anesthesiology faculty and work alongside maternal-fetal medicine (MFM) obstetricians, as well as neonatologists, to gain additional experience in comprehensive peripartum care. Graduates of our program will become expert consultants in obstetric anesthesiology and be capable of providing leadership and educational support within any healthcare institution.
Curriculum and Clinical Experiences
The curriculum includes structured didactics in a multidisciplinary setting focusing on full spectrum of perioperative and peripartum care. Fellows will evaluate and apply evidence-based medicine from scientific studies and current expert guidelines to develop optimal plans for anesthetic care specific to the patient's unique medical conditions. Our fellows will become proficient in the application of point-of-care ultrasound in the obstetric population. Fellows will acquire an expert understanding of relevant physiologic changes of pregnancy in relationship to complex pharmacology, mechanism of labor pain and multimodal analgesia in complex high-risk parturients.
Fellows will be exposed to the important role of the obstetric anesthesia services in the context of Perioperative Surgical Home models and other multidisciplinary care models. Fellows will be able to understand how these healthcare models impact overall patient satisfaction, quality and healthcare costs.
Scholarly and Teaching Activities
Fellows are required to participate in scholarly and teaching activities and encouraged to participate in quality improvement projects. Fellows will have an active part in teaching and educating residents and medical students through lectures, journal reviews and Departmental grand rounds.
Scholarly activity is also highly encouraged during the fellowship year. Fellows will have opportunities to prepare research proposals with IRB approval, manuscripts for peer-review publication and develop new or enhance pre-existing patient care pathways as part of quality improvement projects.
In addition, fellows will be able to attend national obstetric anesthesia related conferences as well as participate in the Global Outreach Initiative where fellows will have an opportunity to travel to an underserved area of the world and provide anesthesia service to a local community.
Facilities and Resources
UC Irvine Medical Centeris a state-of-the-art 417-bed acute care hospital that is the only university-based teaching hospital in Orange County and serves as the primary teaching institution for UCI School of Medicine. The maternal-fetal medicine (MFM) division of UC Irvine Medical Center is the main referral center in Orange County for complicated and uncommon high-risk parturients. As a major referral center, the region's only Level I adult and Level II pediatric trauma center and regional burn center, it presents unique opportunities for our fellows to provide anesthesia care for a diverse patient population.
Long Beach Medical Center has been recognized as a major regional provider of medical and surgical services. During the fellowship, the fellows will be training at Miller Children's & Women's Hospital Long Beach, home to one of the largest neonatal intensive care units in California with greater than 6,000 deliveries per year. Miller Children's & Women's Hospital Long Beach provides a wide range of primary and specialty care for expectant mothers and children of all ages.
Salary
Clinical experience is divided into obstetric anesthesia services (UC Irvine Medical Center or Long Beach Memorial), operating room assignments and neonatal and obstetric rotations. Fellows receive an appointment as a Health Sciences Clinical Instructor and are expected to participate in teaching and supervising residents. Salary is approximately $80,000 per annum with benefits; opportunities for additional income are available. Fellows receive approximately five weeks of vacation, five education days to attend specialty meetings, and an educational allowance of $1,000.
Application Process
Please submit the following:
Curriculum Vitae (CV)
Three letters of recommendation
ABA BASIC exam results
Personal statement expressing their interest in obstetric anesthesiology
Qualified applicants will be invited to interview with fellowship program director, associate program director, as well as other clinical faculty.
Email required documents to:
anesthfellowship@uci.edu
Special Requirements
Completion of an ACGME-accredited anesthesiology residency program, DEA license and California medical license prior to start of fellowship.
Contact Information
Please direct all inquiries to:
Fellowship Coordinator
Tina Petrosian
Email: anesthfellowship@uci.edu
Phone: 714-456-5835
Program Director
Chief, Obstetric Anesthesia
Dmitry Portnoy, MD
UCI Anesthesiology & Perioperative Care
Associate Program Director
Chairman, Women's Anesthesia
David Larson, MD
Long Beach Memorial Medical Center
Miller Children's & Women's Hospital Long Beach