Anesthesiology Interest Group (AIG)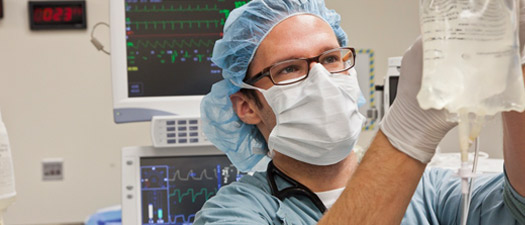 The Anesthesia Interest Group (AIG) was established to introduce interested medical students to the exciting, burgeoning field of anesthesiology. With the boom in medical advancements in the modern age, anesthesiology is at the forefront taking advantage of the latest medical technologies to better patient care preoperatively, intraoperatively and postoperatively.
The Anesthesia Interest Group holds two general meetings annually, coordinates student involvement in the annual department holiday dinner, conducts question and answer sessions with senior medical students and resident/faculty regarding residency applications and helps run the airway management workshop at the annual medical student Palm Springs retreat. The Anesthesia Interest Group can also help members with applications, connect them with faculty for shadowing, research experiences, and introduce them to private anesthesiologists in the community.
We sincerely look forward to having you in our group and welcome all those we are interested in the field.
Workshops
AIG hosts informative and interactive workshops throughout the year for medical students. If you are interested in becoming a member or participate at one of our workshops, please contact one of our board members or visit our AIG website.
Some workshops planned for the year are:
Airway/Intubation workshop
"Real Deal" anesthesia talk
General meetings
MS3 meeting with anesthesia program director
Contact Information
Please direct all inquiries to:
Kevin Roy, MS3
Co-President
Email: roykm@uci.edu
Olivia Kaminsky, MS3
Co-President
Email: kaminsky@uci.edu
Erica Parker, MS2
Chair of Communications
Email: emparke1@uci.edu