Anesthesiology Critical Care Medicine Fellowship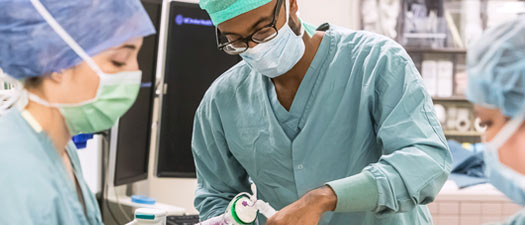 The Department of Anesthesiology & Perioperative Care now offers two fellowship positions in Anesthesiology Critical Care Medicine (ACCM). This 12-month ACGME accredited fellowship is designed to fulfill the American Board of Anesthesiology (ABA) requirements for the critical care board eligibility, while provide flexibility to tailor towards the needs of the individual fellows.
My fellowship year provided me with a broad exposure to challenging medical and surgical cases through ICU rotations and electives tailored towards my interests which included a rotation at Cedars-Sinai Cardiac ICU. I was able to further my skill sets with numerous opportunities to perform advanced ultrasound exams, bedside tracheotomies, PEG and chest tube placements. Most importantly, I was able to work with supportive faculty mentors across different specialties who have helped develop my independent clinical acumen on which I rely on today as a consultant intensive care physician.
- Marcus Kuikka, MD (Fellowship Graduate 2018)
The overall goals of the ACCM fellowship are to develop leaders in the multidisciplinary critical care team, an expert in bedside ultrasonography, rescued transthoracic and trans-esophageal echocardiography, an expert in applying Goal-Directed Therapy concept. The core program is centered in the surgical intensive care unit (SICU) and the medical intensive care unit (MICU). As the only Level I trauma center in Orange County, the UC Irvine Medical Center serves as the main referral for 3.1 million patients. Our 24-bed SICU has an average daily census of 19.4 patients, 31 percent of which are trauma patients. The fellows will spend up to five months in the SICU and four months in the MICU. The Burn ICU, which has 12 beds, serves as the only comprehensive regional burn center in Orange County is available as an elective rotation. The fellows will have the opportunity to participate in multidisciplinary rounds, supervise residents, and teach medical students. Up to two months can be spent in electives including clinical or basic science research projects. Clinical electives are available in echocardiography including bedside ultrasound, infectious diseases, nephrology, cardiology, pulmonology, palliative care, and radiology. These will be tailored towards the individual needs that best prepare for their career path.
Curriculum
The overall goals of this fellowship are to develop a leader in the multidisciplinary critical care team, an expert in bedside ultrasonography and using Goal-Directed Therapy to predict fluid responsiveness. While this one-year accredited program aims to fulfill the ABA critical care requirement, the major focus and uniqueness of the ACCM fellowship is to train the fellow in bedside echocardiography and ultrasonography. In addition, the ACCM fellows will have the opportunity to participate in the cutting edge research in minimally invasive and non-invasive hemodynamic monitoring to predict fluid responsiveness and to guide Goal-Directed Therapy for fluid resuscitation.
In conjunction with the critical care fellows from the UCI Department of Surgery, the ACCM fellow is responsible for running the clinical service in the SICU. This includes conducting clinical rounds, coordinating and supervising all aspects of patient care, coordinating care with the members of the primary surgical services, and ensuring that the ICU team functions as an efficient unit. The fellows evaluate all admissions while on service and require being available whenever a patient becomes unstable and provide appropriate supervision (direct or indirect) for all procedures performed by residents or students. The fellows will also lead the weekly SICU interdisciplinary rounds, which include nursing staff, a pharmacist, respiratory therapists, physical and occupational therapists, dietitian, case manager, social worker, and palliative care service to manage bed flow and to provide clinical instructions with regard to the critically ill patients.
In addition to attending the weekly ultrasound lectures and critical care conference specific to all ICU fellows, the ACCM fellows will conduct formal didactic presentations at the weekly, Surgical Critical Care Conference and quarterly journal clubs. Finally, the ACCM fellows will also present at least once at the Department of Anesthesiology & Perioperative Care grand rounds, which is attended by faculty, residents, CRNAs, nurse practitioners, and medical students.
Didactic Sessions
Formal weekly didactic lectures on core ICU topics occur on Thursday afternoon. Fellows from surgery and anesthesia critical care programs choose topics and prepare 45-minute didactic presentations under the mentorship of a faculty member. Other lectures will be given by guest lectures based on specific topics. Fellows from pulmonary critical care medicine will also attend these didactic lectures when they are on rotation with the SICU team and will have the opportunity to present a 45-minute presentation on one of the core ICU topics.
SICU M&M/PBLD Conferences
Faculty and fellows from anesthesia and surgical critical care fellowships, along with representatives from nursing and mid-level practitioners, meet monthly to discuss cases from the SICU and trauma. When indicated, other anesthesia team, primary surgical team, or consultants are invited to attend.
Anesthesiology M&M/PBLD
Our Department conducts monthly perioperative event reviews. It is a novel approach to M&M in which the focus is system-based. Events are reviewed to identify system failures and address them accordingly. The fellow is expected to prepare and present the case if he/she has been involved in the care of the patient. When indicated, primary surgical team, consultants, and risk management are invited to attend.
Journal Club
The SICU has a monthly journal club that is attended by the ACCM faculty, surgical critical care faculty, and fellows from anesthesiology, surgery, and pulmonary medicine (when on rotation). Fellows select the articles in conjunction with an attending intensivist and present a critical appraisal using standard evidence-based practice guidelines, and then lead the ensuing multidisciplinary discussion.
Research Seminars
There are three grand rounds per year that is devoted to research. Presentations include ongoing or completed studies as well as protocol development. In addition, the Anesthesia Research Club meets monthly to discuss ongoing research. The ACCM fellow is expected to attend these research seminars and present a summary of the project if actively involved.
Application Process
Applications for the fellowship will be accepted through the SF Match. Visit sfmatch.org to register and apply using the Central Application Service (CAS).
Contact Information
Please direct all inquiries to:
Fellowship Coordinator
Tina Petrosian
Email: anesthfellowship@uci.edu
Phone: 714-456-5835
Program Director
Trung Vu, MD