Certified Registered Nurse Anesthetists (CRNAs)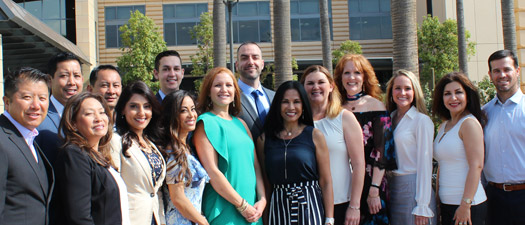 The Certified Registered Nurse Anesthetists (CRNA) team is an integral part of the perioperative care at UCI Medical Center. With an anesthesia care team model, our CRNAs work collaboratively with our faculty anesthesiologists and physician residents to provide excellent quality clinical care for patients.
Christen Hebl, CRNA, MS, Principal Nurse Anesthetist, leads the wonderful and talented group of over 50 CRNAs. Brandee Baker, CRNA, Vice Principal Nurse Anesthetist, helps lead the group and is responsible for the administrative affairs. Our CRNAs are committed to the Department's core values of integrity, dedication and inclusivity. The love towards the profession is evident in the daily work and our CRNAs take pride in providing high-quality patient care. We strive to provide a rewarding working environment with flexibility, open communication and work life balance.
We are a premier clinical site to Kaiser Permanente School of Anesthesia and to the National University Nurse Anesthesia Program. We clinically train junior to graduate level student registered nurse anesthetists (SRNAs) and provide them with a wide range of clinical experience needed to become exceptional CRNAs. Several of our graduates have been selected to join our growing team. Our SRNA clinical education program is led by Clinical Program Director, Ann Singleton, DNAP, CRNA.
Our CRNAs are licensed, registered, advanced practice nurses who have completed a post-graduate masters or doctoral degree focusing on the practice of anesthesia. Our CRNAs provide anesthesia services to the UCI Medical Center main operating rooms, outpatient surgical services, obstetrics, cath lab, MRI, IR and the H.H. Chao Comprehensive Digestive Disease Center. Beyond clinical duties, CRNAs are involved in quality and safety oversight, quality assurance, ongoing education, simulation education and overall health and wellness. Our CRNAs are also actively involved with the California Association of Nurse Anesthetists (CANA) and The Advanced Practice Nursing Council.
For open CRNA positions, please visit the University of California, Irvine Career Opportunities.