Anesthesia Technicians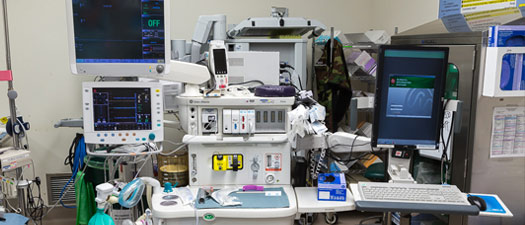 The anesthesia technicians at UC Irvine Medical Center contribute to the safe, efficient and cost effective delivery of anesthesia.
They assist our anesthesia care providers by obtaining the supplies and equipment required for anesthesia administration in more than 28 locations throughout the medical center, the UC Irvine Health Chao Family Comprehensive Cancer Center and the outpatient surgery center. The surgical procedures vary in complexity and encompass our diverse community and patient population.
The duties of our anesthesia technicians include assisting in direct patient care, equipment maintenance and servicing. Sterilization, assembly, calibration, cleaning and testing are some of the tasks our technicians perform daily. Additionally, they troubleshoot equipment problems and keep quality assurance records, as well as operate a variety of leading edge mechanical, pneumatic and electronic equipment used to monitor, evaluate and manage the patient undergoing anesthesia. Our anesthesia technicians provide close intra-operative support to the anesthesiologist and CRNA and they provide a familiarity bridge with the technology and difficulties associated with anesthesia care for patients at high risk.
The technicians at UC Irvine Medical Center are contributing to the advancement of the anesthesia technology profession. UC Irvine Medical Center is a clinical training rotation for a new anesthesia technology-training program in association with Pasadena City College. The certified anesthesia technicians cover areas related to adult and pediatric services as follows: cardiothoracic; vascular; trauma; neurosurgery; urology; ENT; plastics; ophthalmology; orthopedics; obstetrics; gynecology and general surgery. They also provide support for special procedures in the radiology department that include MRI, GI Lab, CT Scan, nuclear medicine, radiation oncology, burn intensive care and the cardiac catheterization lab. All our certified anesthesia technicians have passed the national examination requirements established by the American Society of Anesthesia Technologists and Technicians (ASATT). The ASATT is a member of the Institute for Credentialing Excellence (ICE) and as a health science discipline can, establishes compelling standards for credentialing education programs through CAAHEP - Commission on Accreditation of Allied Health Education, The UC Irvine certified anesthesia technicians are also a resource to all staff in the perioperative setting. The certified anesthesia technician also functions as an integral part of the cardiac team and participates in the call schedule.