Surgical Anesthesia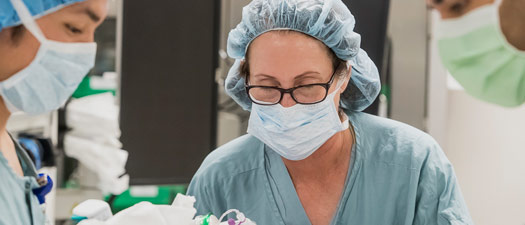 We provide general, neuraxial, and regional anesthetics in addition to monitored anesthesia care for multiple sites on the main UCI Medical Center and Long Beach Medical Center. In addition to the main operating rooms we also cover the minimally invasive surgical suites, the outpatient center, the gastroenterology suites, interventional radiology, and MRI/CT. We also provide emergency airway management for the hospital.
Cardiovascular Anesthesia
Our cardiovascular anesthesiology team consists of board-certified anesthesiologists specialized in cardiocvascular anesthesia. We perform a wide spectrum of adult cardiac surgical procedures at UCI Medical Center, including coronary artery bypass procedures on and off cardiopulmonary bypass, valve repairs and replacement, open and endovascular repairs of aortic dissections and aneurysms and congenital cardiac defect repairs. As a tertiary care center, our patients are usually complicated and high risk compared to the local community hospitals.
In addition to the standard monitors and equipment routinely used during cardiothoracic procedures, all of our cardiac anesthesia operating rooms utilize transesophageal echo-cardiography with state-of-the art three dimensional capabilities allowing our cardiac anesthesiologists to watch heart function continuously throughout the surgery.
We also provide anesthesia services for procedures performed in the cardiac cath lab, neonatal intensive care units (including patent ductus-arteriosis ligations) and electrophysiology suites.
Obstetric Anesthesia
The labor and delivery suites at UCI Medical Center have an average of 120 deliveries per month. Additionally, there are two dedicated operating rooms for OB cases. Although the number of total deliveries is modest, there are large numbers of high risk obstetric patients because of our Neonatal Intensive Care Unit (NICU). The 30 bed NICU at UCI is one of only two Level III Neonatal Intensive Care Units in Orange County and the team has vast experience in taking care of sick newborns. Partly for that reason, UCI Medical Center takes many referrals of high risk parturients from other community hospitals. We routinely manage high risk conditions such as prematurity, pre-eclampsia/eclampsia, labile diabetes mellitus, placenta accreta, and both maternal and fetal cardiac problems.
The anesthesia department provides 24 hour coverage for labor analgesia, cesarean sections, and post-partum procedures, as well as routine and high-risk obstetric and gynecologic surgeries.
Pediatric Anesthesia
Anesthesia for neonates, infants, and children requires an understanding of the manner in which pediatric patients differ, anatomically, psychologically, physiologically and pharmacologically, from adults, and how these differences affect the anesthesiologist's ability to maintain homeostasis and provide necessary operative conditions during surgery and the post-anesthetic recovery period.
The pediatric anesthesiology service at UCI Medical Center is comprised of board-certified anesthesiologists that are specialized in pediatric anesthesia. Because UCI Medical Center is a high-risk obstetrical and neonatal referral center, the teams is familiar with routine as well as unusual problems. Common procedures include PDA ligation, laparotomy for necrotizing enterocolitis and bowel atresias, repairs of esophageal atresia/tracheoesophageal fistula, abdominal wall defects, examination and repair of airway anomalies, repair of urological anomalies and EXIT procedures. Additionally, the UCI Health Level I Trauma Center has the staff equipped with extensive experience managing pediatric emergencies and traumas.
Neuroanesthesia
Neuroanesthesia encompasses experiences in neurosurgical and neuro-radiological interventions in radiology suites. The neurosurgical anesthesia service has expanded over the last couple of years and provides an opportunity to gain experience in anesthetic management of complex intra- and extra-cranial neurosurgical procedures. As the first intra-op MRI center in Orange County, UCI offers an opportunity for residents to learn about the challenges presented by anesthesia with this technique.
There are full time neurosurgeons that operate four to five days each week. They cover a broad range of neurosurgical procedures including stereo-tactic surgery, intracranial masses, cerebrovascular diseases, pituitary techniques, spine, movement disorders and epilepsy. Additionally, UCI places implants in patients suffering from movement disorders.
Our anesthesiologists interact with neurologists and electrophysiology technicians during intra-operative monitoring of somatosensory and motor evoked potentials, EEG, electromyography, and brain stem auditory evoked potentials, all of which help assure our patients' safety and positive outcomes.
Regional Anesthesia
Our anesthesiologists offers a variety of regional anesthetic options for appropriate cases. The most common regional techniques are the neuraxial blocks, namely spinal and epidural anesthetics. Spinal anesthesia is often utilized for urologic and gynecologic procedures, and epidurals are used routinely in labor and delivery to alleviate labor pain. Additionally, epidurals are often placed to provide post-operative pain relieve (and decrease the risk of pneumonia and respiratory complications).
UCI also offers peripheral nerve blocks for many orthopedic, vascular, and outpatient procedures. Utilizing ultrasound, anatomic landmarks, and nerve stimulators, a single injection is made at a point along the nerve in order to numb the surgical site. Often this is done for the surgery itself to avoid the need for general anesthesia, but equally often a block will be offered to provide pain relief after surgery, as most blocks last 12 to 18 hours and often as long as 24 hours after being placed.