Critical Care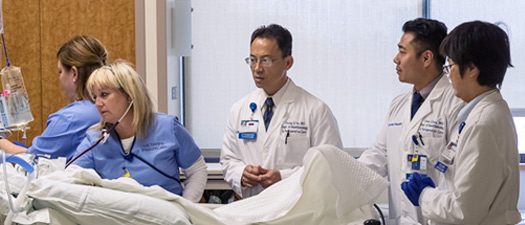 The UCI Anesthesiology Critical Care Medicine (ACCM) is a division of the Department of Anesthesiology & Perioperative Care. The ACCM tripartite mission is to heal our patients, teach our residents and students, and to discover new technologies.
We have world-class faculty who are committed to achieving excellence in all three areas of academic medicine. Accordingly, we provide outstanding medical care, recruit the brightest and most talented residents, and offer research opportunities in both basic science and clinical realms. We also have two ACGME accredited positions for a Fellowship in Anesthesiology Critical Care Medicine.
The UCI Douglas Hospital provides the most advanced trauma and critical care treatment available to adults and children with life-threatening injuries. The multidisciplinary team approach consists of trauma/critical care surgeons, anesthesiology intensivists, and pediatric intensivists. The core program is centered in a surgical intensive care environment including the 24-bed SICU. The patients are represented from adult trauma, neurosurgical, ENT, cardiac, thoracic, orthopedic, urology, and general surgical services. In addition, The CA-3 residents will have the opportunity to choose between SICU, MICU and neonatal ICU for their senior elective ICU rotation. Also integrated within the curriculum is the simulation training which occurs in the world-class UCI Medical Education Simulation Center on the UC Irvine Main Campus.
The SICU houses critically ill patients of all surgical sub-specialties, and also cares for the trauma patients requiring critical care. As the only Level I trauma center in Orange County, the UCI Douglas Hospital is the main referral hub for 3.1 million patients. In addition to the trauma population, our SICU team cares for patients requiring surgical care from a number of services, including neurosurgical, ENT, cardiac, thoracic, orthopedic, urology, and general surgery.
All ICUs at the UCI Douglas Hospital offer the latest monitoring and resuscitation equipment to ensure the best patient care. Our ICUs emphasize a multidisciplinary team approach. In the SICU, the team includes trauma/critical care surgeons, anesthesiology intensivists, and pediatric intensivists.
Our residents actively participate in all aspects of patient management. On some services like orthopedic surgery our residents serve as the primary caretaker; whereas, on other services for example, CT Surgery, patient management is collaborative.
Besides the clinical duties, residents participate in daily lectures, weekly multidisciplinary rounds, which include representatives from case management, nutritional services, pharmacy, physical therapy, occupational therapy, respiratory therapy, social services, palliative medicine, and nursing. In addition, our residents gain familiarity with difficult ethical considerations such as brain death evaluation, medical futility, advanced directives, end of life care, and organ donation.
Goals and Objectives
The specific goals and objectives for our residents during their critical care rotation are listed below, and organized according to the six core competencies.
I. Patient Care
The residents will improve their skills in the preoperative evaluation, formulation of anesthetic plan, anesthetic care, and immediate postoperative care in patients receiving standard and advanced operations in all surgical subspecialties. In addition, our residents gain advanced training in the management of trauma patients.
The residents are expected to gain experience, and further develop their skills in the following areas:
Invasive hemodynamic monitoring
Transthoracic echocardiography
Non-invasive hemodynamic assessment and management
Diagnosis and management of dysrhythmias, ischemia, cardiogenic shock and CHF (including use of IABP, LVAD, RVAD, BiVAD, ECMO)
Mechanical ventilation and weaning (including use of i-NO)
Elective and emergency airway evaluation and management
Management of pain, agitation, and delirium
Treatment of acid-base balance and endocrine disorders
Management of multisystem organ failure, including renal, hepatic
Evaluation and management of sepsis, and septic shock
II. Medical Knowledge
Residents are expected to become familiar with established and evolving biomedical sciences (including epidemiological and social-behavioral data), and the application of this knowledge to the critically ill patient. They will acquire the necessary knowledge to provide patient care that is safe, timely, effective, efficient, equitable and patient-centered.
III. Practice Based Learning and Improvement
The residents will be instructed on how to assimilate the scientific evidence and to achieve improvements in patient care. They will become familiar with outcome studies regarding core support methodologies for the critically ill patient, with an emphasis on anticipation and elimination of preventable complications that have traditionally been associated with critical care. They will participate in monthly Critical Care Journal Club sessions, as well as daily critical care talks with the faculty.
IV. Interpersonal and Communication Skills
The residents will further develop their communication skills, both with surgical colleagues, medical consultants, nurses, other support staff, patients, and their families. During the preoperative period, critically ill surgical and trauma patients are extremely vulnerable, as are their loved ones. Communication during this time requires a great deal of understanding, insight and compassion.
V. Professionalism
The residents will have ample opportunities and faculty support to develop their professionalism, and, in particular, their sense of the "etiquette of the ICU." This will include sensitivity to the high pressure of the SICU and the social and emotional needs of the patient and family during recovery.
VI. Systems Based Practice
The residents will further develop understanding of critical care management practices, as well as how other systems of care are delivered in other hospitals in the, community, in other states, and other nations. Principles of cost containment (drugs, ICU length of stay, for example) will be taught as core principles of quality. The potential contributions of anesthesiologists to the entire perioperative experience will be appreciated and emphasized as an extension of the perioperative home.