Acute Pain Service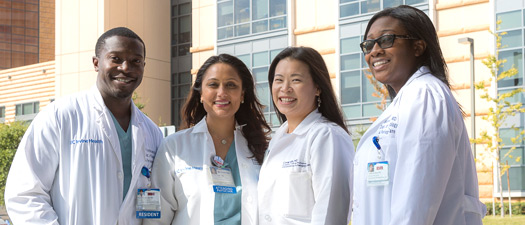 The Acute Pain Service provides 24-hour in-house coverage for patients with acute postoperative, post-traumatic and severe chronic pain. Our team consists of an attending physician with both acute and chronic anesthesia expertise, anesthesia residents and a nurse practitioner.
We have a dedicated team focused on the treatment of acute perioperative pain tailored towards each patient's needs. The Acute Pain Service team has grown exponentially, underscoring the growing need at UCI Medical Center. The team formulates treatment plans chosen from rational, evidence-based therapeutic options. We utilize multimodal analgesia, typically a combination of an opioid and non-opioid analgesic, with or without a regional anesthetic block, to concurrently reduce opioid-related side effects. We strive for early recognition of pain, as a means to enhance recovery, decrease length of stay, and improve patient satisfaction.
We incorporate the latest ultrasound guided technology and nerve stimulation technology for placing and managing a wide range of peripheral nerve blocks, with or without catheter placement. Ultrasound guidance increases patient satisfaction by precisely localizing nerves and enhances patient safety by providing real-time visualization. We also provide and manage thoracic epidural catheters, which are placed for patients undergoing extensive abdominal and thoracic surgery as well as for patients suffering from acute traumatic chest injuries. All patients with indwelling catheters are closely monitored and treated on a daily basis by the Acute Pain Service.
We act as a consult service for medical and surgical teams and assist with complex pharmacological management including neuraxial, parenteral, and enteral pain medications. We also work closely with the primary provider team as a means to develop an effective oral pain regimen for discharge disposition. We utilize a wide variety of medications including opioids, anti-inflammatories, muscle relaxants, topical agents, and antineuropathic medications. Patients who may need additional pain management expertise following discharge can be referred to our outpatient pain clinic, Center for Pain & Wellness, located at the Gottschalk Medical Plaza in Irvine or at UCI Health Medical Group locations in Orange and Tustin for continuity of care.